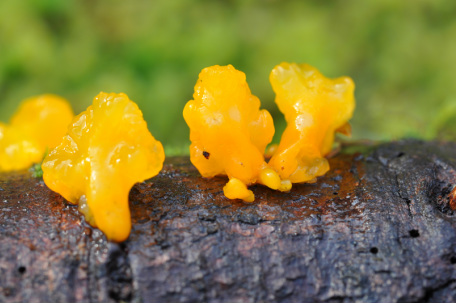 When I was a park naturalist one of the activities we used to do with school groups was to hand out small pieces of brightly coloured paint chips, in an array of gaudy and improbable colours. Each student was sent into the forest with the goal of finding some organism that had as close a match to their colour as possible. If we were doing this with a group in the fall, students would often find this fungus to match yellow or orange colours.
Dacrymces chrysospermus (
most field guides call this
D. palmatus)
is one of a number of orange jelly fungi found on southern Vancouver Island. Here at Leaning Oaks it almost always grows on Douglas-fir wood that is just starting to decay. It starts out bright yellow and becomes a rich tangerine orange before almost disappearing completely as a tan scum (see photo below for a very young and almost dried up fruiting body).
A very useful key to the local jelly fungus can be found at
http://www.svims.ca/council/Jelly.htm#nYel