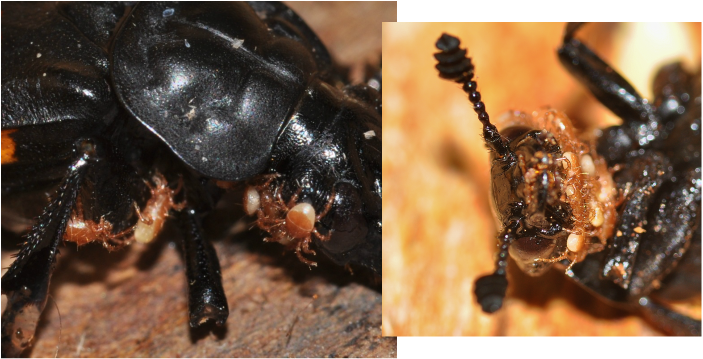 Where you find burying beetles (
see #294
) you will find a bevy of mites.
The term phoretic
refers the association between these two in which one organism attaches to the other, so the mite or phoront, uses the other organism or host (the beetle) for dispersal. So if you are horse-riding, you are the phoront. Oh, except the phoront is technically not able to disperse on its own. Oh well, you get the picture. It isn't the English name of this particular species of mite! As far as I could find, there aren't any common names for these guys.
Carrying around all of these mites has a cost to the beetle, the mites are heavy and can be found in great numbers, affecting the beetle's ability to fly long distances. What is the benefit to the beetle? This is where things get very cool. When the beetle finds some carrion, the mites amble off and feed on fly eggs and larvae, ridding the carcass of competitors that also feed on this limited food resource that the larvae of the beetles depend upon to survive. And the wingless, very small mites get to a food resource. Elegant.
Don't feel sorry for the fly; they are more efficient and long distance dispersers than the carrion beetles and thus are more likely to find another food source.
The mites lay their eggs in the brood chamber of their burying beetle. The new mite generation (or deuteronymphs) clamber on to the male beetle, who disperses before the female. When the beetles meet up with others, the mites will spread themselves around to other burying beetles, apparently keeping the numbers fairly even between the beetles (
Schwarz and Muller 1992
). The numbers can be immense,
Leech (1934)
counted 328 on one
Nicrophorus conversator
! Interesting that for all of Leeches observations, he did not observe that it was the mites that were keeping the carrion free of maggots. He attributed this to the beetle adults protecting the food source from the competitors and that the only benefit that he could see of all these mites was that they "probably eat the filth sticking to the hairy undersides of the beetle".