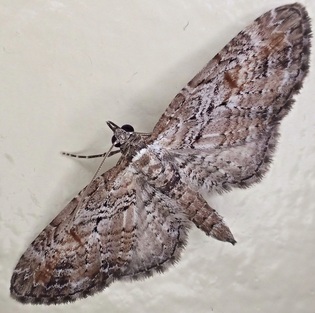 Pugs are a very, very large group of Geometrid moths. Called Pugs, because the hindwings are stubby (pug-winged), the overall effect is the "soaring hawk" look that you can see in the photo here. Pugs are a notoriously difficult group of moths to identify; except apparently
Eupithecia graefii.
The person that confirmed this on Bug Guide mentioned the "red/brown distal spot" as a diagnostic feature. The Victoria Natural History Society expert, Jeremy Tatum concurred with this identification. Edward Graef was an entomologist from Brooklyn, NY that was very active in taxonomy and collecting in the late 1800's.
The larvae of
E. graefii
feed on
arbutus
and manzanita and is relatively common along the west coast of North America. Most sightings and specimen collections of adults are from late April through the summer. That this one was out on February 15th speaks to the incredibly mild weather that we have been having.