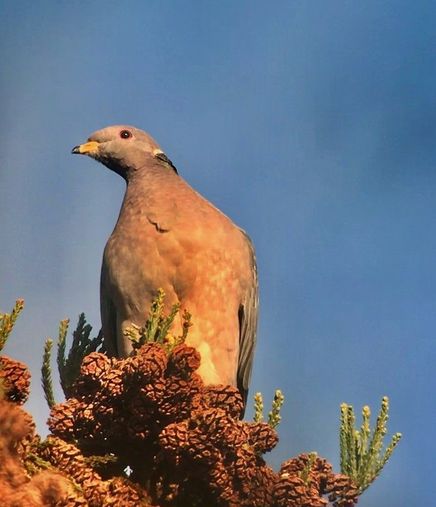 Band-tailed Pigeons are occasional visitors to Leaning Oaks. We have a few recent winter and summer records, but the majority of our sightings are from the spring and fall periods. On years where our oaks have good acorn crops, we often have flocks of feeding Band-tails.
Patagioenas fasciata
is on the provincial Blue List, largely because of declines over the last 30 years. Formerly Band-tailed Pigeons on southern Vancouver Island all migrated south for the winter, with most of our birds wintering in Oregon and California, although the species ranges as far south as Mexico and Guatemala. In the late 1970s this species began to overwinter on Vancouver Island and in the 1980s we had flocks visiting our bird feeder in the winter months. By the late 1990s the species started to decline and we no longer have Band-tailed Pigeons using our feeders.