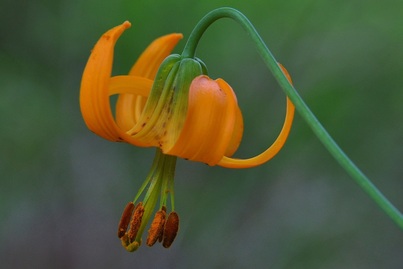 This is the first year that we found a tiger lily on Leaning Oaks--and this is it. One lone stem with a single flower.
Lilium columbianum
can have up to 30 flowers per stem. It ranges from B.C. to northern California and is commonly found in damp open woodlands and meadows from sea level to subalpine and prefers well drained sandy soils. This surprise was under a tangle of ocean spray, Garry Oak and grasses in a rather rocky area.
The bulb that tiger lilies grow from is a white fleshy corm that has sections or scales sort of like a garlic bulb. The bulb is edible and was steamed, baked, mashed, boiled, eaten on its own, mashed with salmon roe, put in soups, dried in cakes and then used as seasonings; a lot of ways. I think that this corm is safe here.
Mostly I was very excited as it meant that there was another easy showy flower to highlight after I thought that we done them all and that there was a few days reprieve from having to ID the six jillion grass species that are out there!