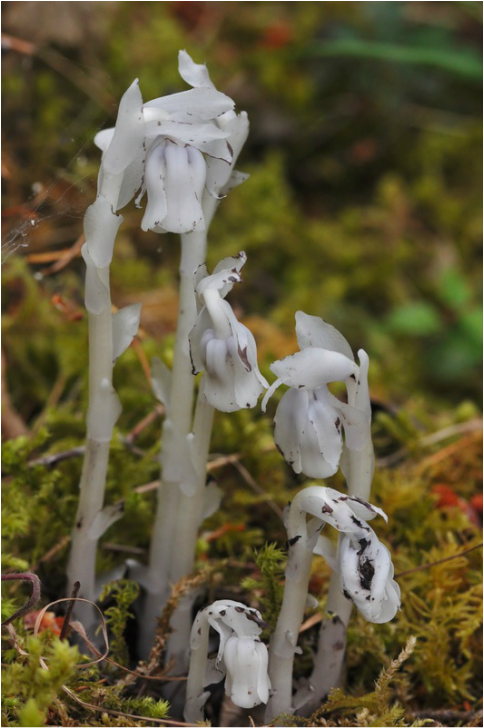 Monotropa uniflora
emits a
glow, and can appear almost bioluminescent on the shady forest floor. Once thought to be a saprophyte, it is now known to have a fungi living in its roots. The fungi extend through the rotting leaves and detritus to the roots of the conifers (Douglas-fir in this case) where it is in a mycorrhizal relationship. The Douglas-fir roots provide glucose that the fungi transports back to the Indian Pipe. The fungus also provides phosphorus, nitrogen and other minerals to both the conifer and the Indian Pipe. The Indian Pipe has an epiparasitic or better yet, a mycoheterotrophic relationship with the fungi.
It ranges across most of North America where there are shady, moist coniferous forests.
American poet Emily Dickinson called the Indian Pipe, "the preferred flower of life". She describes in a letter that she:
"still cherishes the clutch with which I bore it from the ground when a wandering child, and unearthly booty, and maturity only enhances the mystery, never decreases it."
---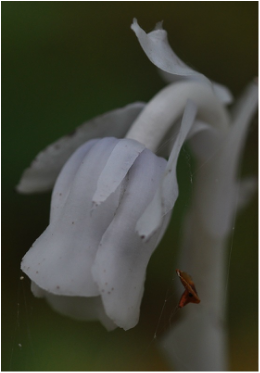 Indian-Pipe by Florence Earl Coates

In the heart of the forest arising,
Slim, ghostly, and fair,
Ethereal offspring of moisture,
Of earth and of air;
With slender stems anchored together
Where first they uncurl,
Each tipped with its exquisite lily
Of mother-of-pearl;
Mid the pine-needles, closely enwoven
Its roots to embale,--
The Indian-pipe of the woodland,
Thrice lovely and frail!

Is this but an earth-springing fungus--
This darling of Fate
Which out of the mouldering darkness
Such light can create?
Or is it the spirit of Beauty,
Here drawn by love's lure
To give to the forest a something
Unearthy and pure:
To crystallize dewdrop and balsam
And dryad-lisped words
And starbeam and moonrise and rapture
And song of wild birds?