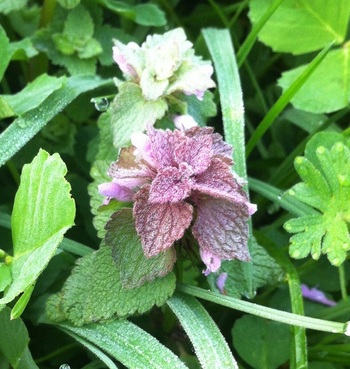 Purple Dead-Nettle is a distinctive introduced species that is frequently found in disturbed places and lawns on southern Vancouver Island. At Leaning Oaks it varies from year to year how much of this we have, and it is a common weed in our garden. The purple leaves on the flowering shoots are showier than the flowers themselves, and nearly the same colour.
Lamium purpureum var.
purpureum
is in the same genus as Yellow Archangel (32.) and since both are weeds here, I must admit that its has discouraged me from using other species of Lamium in the garden. This species is usually an annual or biennial plant. They produce huge quantities of small seeds, in the hundreds or thousands. Irrigated, they continue to bloom well into the summer or fall. "Dead"-nettle refers to the fact that the species superficially looks like stinging nettle, but is "dead" or stingless.