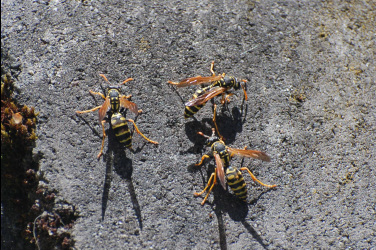 This is a recent arrival in B.C., with the first record from the province in 2003.
Polistes dominula ( P. dominculus)
spread quickly and our first record here at Leaning Oaks occurred in 2005. This species looks superficially like our native Paper Wasps and Yellow Jackets, but they are thinner-waisted and fly with their back legs dangling, which gives them a distinctive appearance. The make paper nests, but these lack the familar outer envelope of our Paper Wasps and Bald-faced Hornets. Instead the honeycomb shaped paper cells are plainly visible and guarded by attendant wasps. Biologically this is a fascinating species, with a lek breeding system, multiple founders at a colony, worker specialisation and swarming behaviour in the fall. The numerical increase and speed of spread is a bit alarming, and they can be at very high densities. They feed heavily on insects, especially caterpillars and the effect of this new species on our local ecosystems is not known. Nests are usually placed 1-2 meters above ground, often near or on human build structures. We have seen them on cedar-rail fences, in the brackets that hold our hot tub cover, mailboxes, under picnic tables, inside bird houses, in wood bins and under deck railings.
The paper describing the discovery of this species in B.C. can be found here:
http://journal.entsocbc.ca/index.php/journal/article/view/82