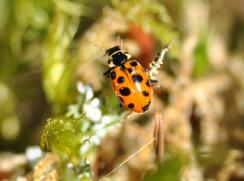 I found this elongated spotted beetle crawling deep through the moss in the middle of April, so probably one of the earlier ones. We found a key online,
http://www.discoverlife.org/20/q?guide=Ladybug
that was pretty easy to use and (hopefully) accurate. Lady beetles have a larval stage where they look like a teeny tiny spiky alligators. Both the adults and the larvae are voracious feeders --particularly on aphids. The scientific name of the 13 spot is a mouthful,
Hippodamia tredecimpunctata.