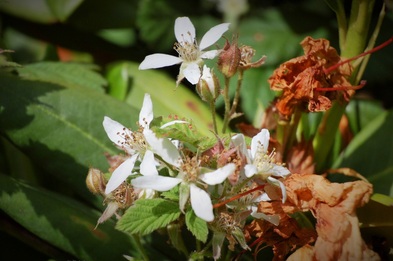 Trailing Blackberry is both beloved and cursed, depending on where an individual plant grows and the nature of your interaction with it. The fruit is wonderful, and this species has been used in breeding programs to produced very flavourful blackberries. In addition, it is one of the parents of the hybrid loganberry, marionberry and boysenberry. The foliage is also very flavourful and is a very good leaf to steep to make blackberry tea. On the other hand, it can be a rapidly growing weed in the garden, fully capable of creeping along the ground or scrambling over shrubs and perennials for several meters in a single growing season. Branch tips often root, and a neglected vine quickly can turn into a big job. The stems are thorny, so pulling without gloves usually gets you a hand full of thorns. Summer strolls in flip-flops or sandals is an excellent way to find this plant, and it becomes painfully obvious why one alternative name is "ankle saw".
Rubus ursinus ssp. macropetalus
is dioecious, that is males and females are on separate plants. Pity that most of the plants here at Leaning Oaks are male, and therefore don't produce fruit. Alternate common names are Pacific Blackberry, Dewberry, Douglas Berry and California Blackberry. I have several other names for it, best not repeated here.