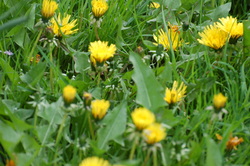 British Columbia has 5 species of
Taraxacum,
and this one,
Taraxacum officinale
is the commonest. Of the five, two are introduced and three are native. Here the main bloom of the species is late April or May, depending on the year, but flowers can pop out at any time, including warm spells in the winter. Dandelion is as well known for their seed heads as they are for their flowers and the parachuting seeds are amazing to watch on a windy day as the float soar away to disperse the seeds. The name is from the French "dent de lion" in reference to the jagged tooth leaves.