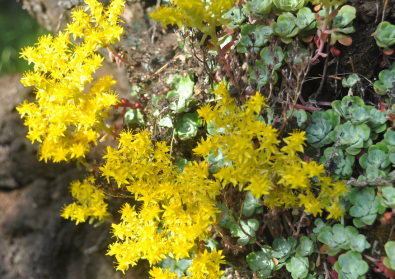 Sedum spathulifolium
brightens the rock out crops, bare patches, the top of the living roof on the woodshed and does so for a long bloom period. The species name refers to the succulent leaves that form a basal rosette and that are shaped liked the tip of a thumb.
It has been taken up by the horticultural trade in Europe as a rock garden plant, with good reason!
There are a couple of tidbits of folklore around Midsummer's Eve (coming soon) and the longevity of the picked stalks. A stalk placed on the windowsill will turn during the night towards the direction from which your lover is to come. Another tale is that a young woman would pick two stalks; one representing herself, the other, her lover. The length of time "he" lasted was an indication of his fidelity.