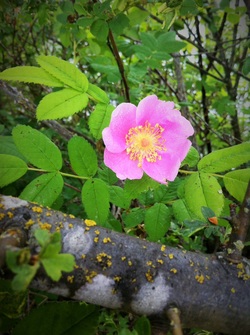 Nootka Rose (
Rosa nutkana var. nutkana
) is in full bloom right now and the smell of the flowers is easily detectable when passing a shrub, especially in the evening. Unlike most other roses, Nootka Rose is detectable by one's nose even when its not in bloom, since the foliage has a spicy metallic smell. The smell always reminds me of childhood bike rides, often at the very end of the day - pushing way past the "be home before dark" curfew. The swampy section of Arbutus Road on the north end of Salt Spring Island was detectable by the aromatic foliage of the Nootka Rose -and it signified that the next driveway to the right was home.
The flowers of this rose are significantly larger than the flowers of 111. Baldhip Rose, and it grows in much damper locations. Here at Leaning Oaks it is restricted to the very lowest point on the property.
In winter, especially in full sun locations, the fruiting bodies or hips are very showy. Rose hip pie is a delicious, but the need to make sure the outer hip is used but all of the irritating hairy seeds are avoided make it a somewhat labour intensive dessert.