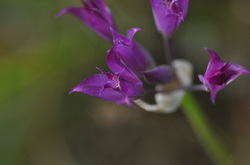 This time it really is an onion (as opposed to the Fool's Onion #121). If you step on or crush
Allium acuminatum
the pungent smell will leave you no doubt. The very small bulbs are occasionally eaten, but due to the restricted range it is better to stick to those locally grown Saanich Peninsula onions! There can be up to 25 flowers on a stalk, each with the tepals that turn at the tips (a distinguishing feature of A.
acuminatum
). Another English name I saw was "Taper-tip Onion" ; aptly descriptive. However Hooker has the honours here.
Joseph Dalton Hooker was an incredibly active botanist in the 19th century, was a close friend of Darwin's, was the director of the Kew Gardens and had the best eyebrows ever.
http://www.jdhooker.org.uk/