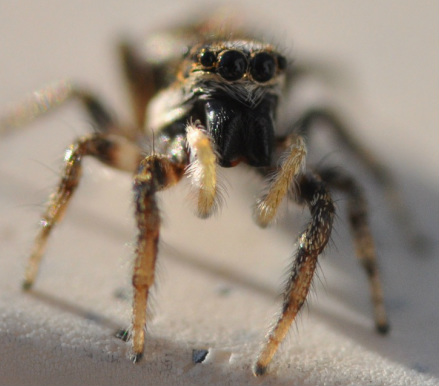 I am completely smitten with jumping spiders. This fellow, Salticus scenicus measures in at about 5 mm, is quick as greased lightning and is relatively common here at Leaning Oaks and across North America. The species name, "scenicus" is derived from the Greek skenikos, meaning "of the stage" or theatrical and "Salticus" is Latin for dance. When they turn to look at you with their eyes (total of eight, four facing forward) and wave their chelicerae and pedipalps like some sort of battle threat or odd dance, you can understand the source of the name

It does not spin a web to capture prey, but hunts actively for its dinner. The photo below is a different individual that has tackled a fly much larger than itself! I had to include it, even though it wasn't a great photo. They do produce silk, using it for safety lines, to make egg sacs and to build overnight retreats. The colours on the Zebra Jumping Spider vary, as do the width and spacing of the stripes.

I was very sad to read that this jumping spider is considered a native of Europe and has been introduced throughout the northern hemisphere...I'd like to think that they belonged here!