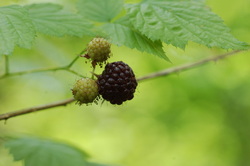 Black Raspberry, or Blackcap is a native shrub that grows long arching stems with a raspberry-like dark purple berry for fruit. The lone plant here at Leaning Oaks grows on the soil disturbed by an the up -rooted tree. The species is usually associated with disturbance. The fruiting stems are two years old when they bear fruit and then they usually die.
The berry is very tasty, but sadly, we don't have enough
Rubus leucodermis
to get a good feed. Other common English names include White-stemmed Raspberry, Western Raspberry or Blue Raspberry.