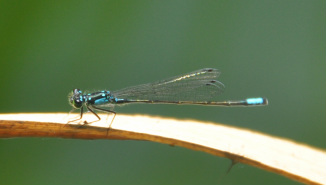 The four spots on the thorax are an easy way to distinguish
Ischnura cervula
from other damselflies that we have the area. The other feature are male genitalia that are shaped like deer antlers; this the species name
cervula
. With a little imagination I can see the antlers with a hand lens.
Pacific Forktails have a long flight season as one of the earliest damselflies that you may see in April to the end of September. Great resources for looking at the range of dragonflies and damselflies in BC can be found by going to the reports page for the species on BC Species and Ecosystems Explorer (
http://a100.gov.bc.ca/pub/eswp/search.do
) and then looking at either the link to the interactive maps that are on eFauna or the Range/Distribution link.