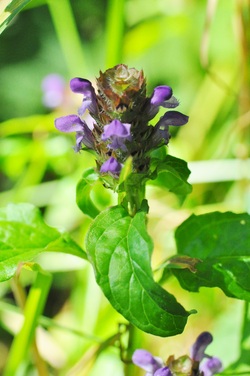 There are two subspecies of
Prunella vulgaris
found in our area. The native subspecies,
Prunella vulgaris ssp. lanceolata
is circumboreal and has more lancolate shaped leaves that are three times as long as wide, while the European introduction
Prunella vulgaris ssp. vulgaris
has leaves that are rounder and the length is about double the width. These were found in the disturbed ditch along the road.
It doesn't really mater which you have; both are great for pollinators, bloom later than many other of the wild bloomers and both have a long list of medicinal uses. Self-heal is used for fever reduction, sore throats, heart and skin conditions, to stop itching, excessive menstruation and burns. References to the benefits of self-heal can be found in Chinese literature from over 2000 years ago where it is attributed with aiding liver and kidney problems.