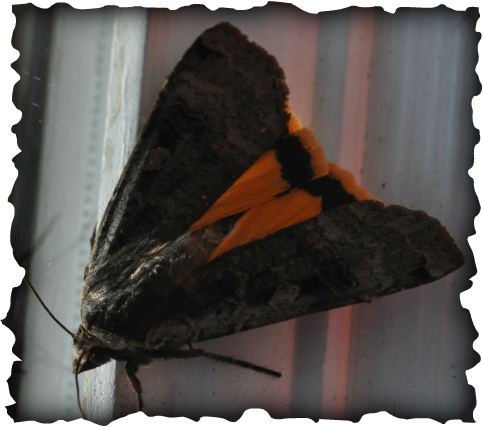 This large Eurasian cutworm moth,
Noctua pronuba
, was first recorded in Canada in 1979 in Nova Scotia and had made its way to BC by 2002, now commonly seen on the eastern side of Vancouver Island. It may have winged its way to the west coast on its own as a strong flier, but there are suspicions that it was human assisted. Many of the host plants of
N. pronuba
are widely used in the horticultural trade and the larvae eat many common food crops. A summary of the status and spread was written in 2005 by Claudia Copley and Rob Cannings from the Royal BC Museum (
http://journal.entsocbc.ca/index.php/journal/article/view/62/276
).
There is another introduced moth with bright underwings -the Lesser Yellow Underwing,
Noctua comes
that is smaller, has a dark spot in the centre of the underwing and was introduced to BC in 1982. You will have to trust us that this particular specimen did not have the dot!