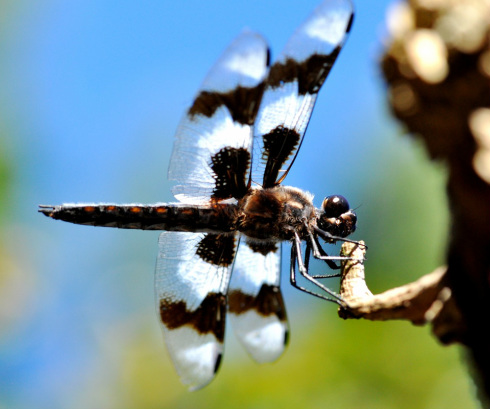 There are five of the King Skimmers in B.C.; all quite showy, aggressive and can be seen skimming across ponds or lakes.
Libellula forensis
is found in southern B.C. from Vancouver Island to Kootenay Lake, being more common to the west. Older individuals will appear bluey-grey on the body; the result of a waxy deposit, or "pruinosity". Eggs are deposited directly in the water and the larvae may transform away from the water. We have yet to find a larvae or exuvia of this species around the pond.
Libellula
comes from the Latin for little book and refers to the open wings spreading like the pages of a book.
Forensis
is "of the forum or market place", referring to those that may enter town during their early adult life. This is a bit of an odd name as many will flit about settled areas when foraging if that is where the bugs are! Mind you, the same goes for the genus name -most of the dragonflies open their wing like a book and in many languages (including French, Spanish, Italian and Romanian) the word for dragonfly is some derivation of libellula.
The eight-spots are the total large black blotches that you can see here.