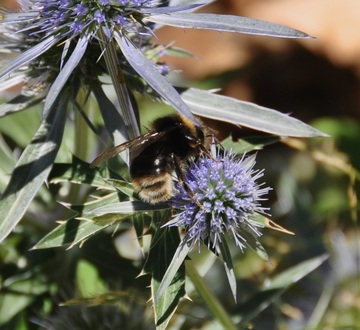 "
Don't it always seem to go That you don't know what you've got Till it's gone
"
Joni Mitchell had it wrong, because if your not really looking, you don't even know then.
That was the case for me with this species. It wasn't until I found one in Delta, B.C. a few years ago, that I realized that this species; one of the commonest bumble bees of my childhood, has almost disappeared. Apparently I needed to see one to be reminded that I hadn't seen on for a very long time. The last five years or so we have had one or two appear at Leaning Oaks, often to nectar on the
Eryngium planum
planted in the garden(as per the photo). This species was assessed recently by the Committee on the Status of Endangered Wildlife in Canada (COSEWIC). COSEWIC determined that the southern subspecies (the subspecies we get here) meets the criteria for threatened. Their assessment can be found here.
Western Bumble Bee is not the only bumble bee in trouble, in fact, just about all the bees in this group of bumble bees are in decline (or in the case of Franklin's Bumble Bee in the western US - likely completely gone).
The reasons for the decline are not clear, and it may be a combination of introduced disease (from commercially available bee colonies used for pollination), new insecticides and other factors.
Like many bumble bees this species has a couple of different colour forms, the one pictured is the easiest to identify. A black and yellow bumble bee with a white rump.