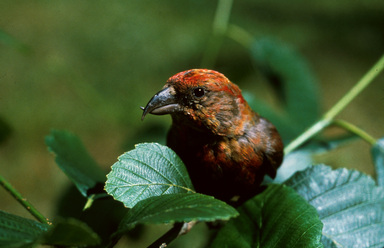 This morning while we were having coffee, two small flocks of Red Crossbills (
Loxia curvirostra
) flew overhead. Ordinarily this wouldn't be unusual, but Red Crossbills have been almost absent since late last fall with very sparse records on southern Vancouver Island for the last 8 months or so. Red Crossbills are notoriously erratic in movement patterns and abundance, and it would seem they are starting to make a reappearance.
To make life more complicated, it is likely that we have a number of different types of Red Crossbills at Leaning Oaks. Very large-billed forms (like the bird pictured) are found here from time to time, and are the most likely forms to be seen at our bird feeders. We think these are mainly pine seed eating populations visiting from the mainland. Our commonest form is an intermediate-billed crossbill that feeds mainly on Douglas-fir seeds. This is the form that breeds some years at Leaning Oaks. There are some years when a very small billed form is found here; these are likely the Western Hemlock seed eating crossbill from the west coast of the island. Lastly, a small to medium billed crossbill that feeds on Sitka Spruce shows up with a sharp , fast, "peek, peek, peek, peek' call note that sounds more like something produced by a flycatcher than a finch.
Red Crossbills in North America have been divided into ten "types" based on bill size, genetics and call notes. An excellent summary on the current understanding of Red Crossbill types (with recordings of call notes) can be found
here
. Since it seems likely that there are actually a number of separate species involved, we should be trying to do a better job of documenting call types - now that we have some appearing again!