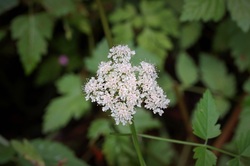 As you might guess from the name, Pacific Water-parsley grows in wet areas. Here it grows in the lowest portion of the property, along the road and the trail that borders two sides of Leaning Oaks. The latin name is
Oenanthe sarmentosa. T
his is one of the genus names that is used for both a plant and an animal, in this case
Oenanthe
is used for a bird as well, the Wheatear.
Oenanthe
has the same root word as is used for Oenophile, meaning relating to wine, and a species of Oenanthe was used to flavour wines. (The bird name also references wine, since the arrival of Wheatears in Greece happens at the same time grapes are flowering).
There is documentation of this species being both edible and medicinal, however, there are also references suggesting it is poisonous and warning agains its consumption. Given this, plus the fact it would be relatively easy to mistake several other deadly poisonous plants for this species it seems ill advised to try eating or self medicating with this plant.
Another species of
Oenanthe
was the raw ingredient of a poison used to euthanize the elderly in ancient Sardonia. The effects of the poison resulted in a smiling grimace on the face of the victim - which is the origin of the phrase "Sardonic grin".