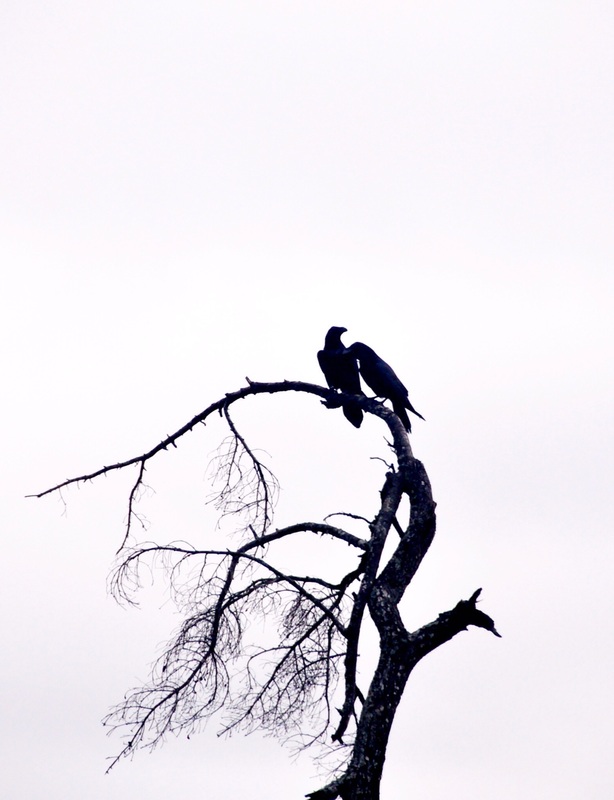 The gurgles, caws, croaks, churrs and a multitude of other sounds that the trickster Raven emits oft fill the air around Leaning Oaks. They are our most common corvid and usually seen here in pairs. They are the reason that the suet feeders are tied tightly with twist ties; this was after seeing one fly past the window with the entire suet block in its large beak. I enjoy watching the rolling and tumbling and acrobatic maneuvers that ravens make while flying, including flying for stints upside down. That really is confusing.
The stories of their intelligence are many.
Corvus corax
have one of the largest brains in the bird world and a relatively high number of brain cells. Researchers have set up ever increasingly difficult tasks and experiments to test what processes are happening and how they may learn and solve problems. This short National Geographic video,
Genius Bird
, shows one set of experiments and
GrrlScientist
takes us through a number of experiments that go beyond the plethora of observations that point to a very clever bird!
The role that the raven plays in coastal first nations culture is prominent and complex. Clever and resourceful, yet a mischievous trickster and shape changer. Raven has been credited with the creation of the world, men, women, fire and is featured in stories, sculpture, masks and dance. Dave's wedding ring is a carved raven that Leah commissioned
Tony Hunt
to create and if she'd had her way the property's name would have raven in there somehow. The only trouble with that was that most of the raven-ish names sounded a bit hippy dippy!