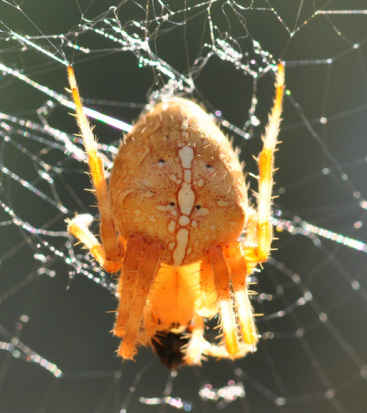 A local spider expert commented that all we had featured were "boring spiders" ....I hope that this species doesn't fall into that category! I think that it is beautiful. This is Araneus diadematus, one of the spiders that builds the classic circular web that is strung between whatever they can find; in this case two Douglas-fir trees.

It is an introduction from western and northern Europe and is found through southern Canada and the northern USA. An alternate English name is European Garden Spider--referring both to it's origins and a common habitat.

Eggs are laid in sacs in the fall and will hatch in the spring, the adults dying in the fall.

Thanks very much to Sean McCann who caught the identification error the first time around. And of course as I look now it is much clearer. Much appreciated.