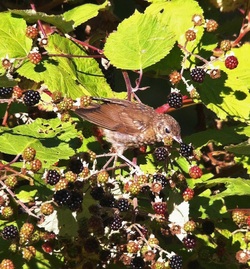 Swainson's Thrush (
Catharus ustulatus
)is a relatively drab thrush that is found here at Leaning Oaks as a summer time breeder. What it lacks in colour it more than makes up for in its singing abililities. The ascending spiralling notes of this species song is one of my favourite noises of spring and early summer. An added bonus is that it is one of the first songs in the morning and last of the day. The strains of Swainson's Thrushes singing often accompany my "cookie walks" with the dog as we do our last stroll of the day before bed. Our records here span from the second week of May until the 3rd week of September.
Click
here
for a Youtube video of a Swainson's Thrush singing. This photo is a young bird feasting on
Himalayan Blackberries
, momentarily forgetting that his kind are skulkers that rarely spend much time out in the open.