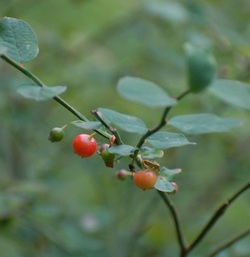 This attractive shrub is scattered throughout Leaning Oaks. Almost every one of them is perched on a decaying stump or log, which seems to be the best habitat for this species, particularly on the drier side of Vancouver Island. The graceful fern-like growth gives the impression of an evergreen because the stems are green and twiggy, but the species is, in fact, deciduous. Unlike most Vacciniums, the berries ripen a bright red instead of the usual blue, purple or black. They are sought after by birds and mammals, including humans. Red Huckleberry is slow picking because of their small size but they make excellent pies and jellies.
At Leaning Oaks the recent series of dry summers has hit many of our
Vaccinium parvifolium
quite hard. The largest individuals have died back, or in some cases, they have succumbed. There has been some recruitment as well, including a handsome specimen on a log that forms one of the edges to our pond.