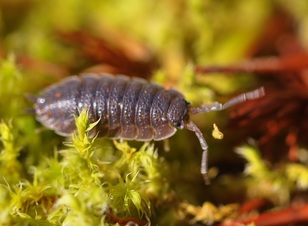 This crustacean lives under piece of wood, plant pots, beneath the moss and fallen vegetation. Wood lice (and the pillbugs or roley polies) breath through gills and live in moist areas but not in the water like the rest of their crustacean relatives.
The rough texture of the plates seperate this "woodbug"
from some of the others found on southern Vancouver Island.
Porcellio scaber,
like the other members of this group has blue blood as the result of a copper molecule in the oxygen transport molecule instead of a iron molecule like our blood.
This is another common species found around houses and gardens that has been introduced from Europe. They feed on dead plant material and are generally not a pest unless they reach huge numbers.
The woodlice are not able to roll into as tight a ball (or conglobulate, my new word of the day) as the "pillbugs" do (see #198).