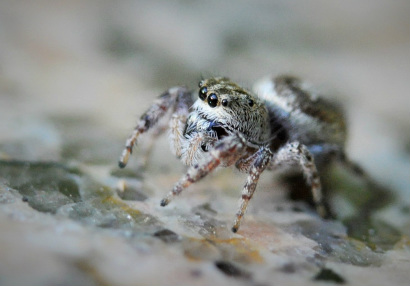 We think this jumping spider is Pelegrina aeneola, a widespread western North American species. I will admit that I couldn't find a common name for the species and just plain made this one up. Leah hates it when I make up common names*. Pelegrina refers to a famous pear-shaped pearl, discovered in the mid 1600's by an African slave in the Gulf of Panama that was "the size of a pigeon's egg". (As a reward his owner granted him his freedom). This pearl has an interesting history and was worn by the cross-dressing Rasputin to the opera, for example. The word aeneola means made from bronze - undoubtedly in reference to one of the common colour patterns found in the males of this species.

This small jumping spider has most often been collected from conifer trees, although has also been found in a wide variety of other habitats. Despite the tiny size of this spider it has been recorded taking prey as large as the Common Earwig. These are photographs of a female that joined us for lunch on July 5, 2014.

*She also doesn't like the term "common name" and prefers the term "English name" or "Hul'q'umi'num' name or Spanish name....or whatever. For the record.