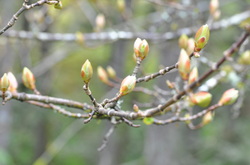 The Bigleaf Maple is the largest maple in Canada, reaching up to 36 meters in height. The leaves are huge to match, the deeply lobed leaves can be up to 30 cm across and are also the largest in Canada. Possibly the most dangerous as well -last night as I was driving home, one of these behemoths fell and splayed itself across my wind shield. I could see nothing. There are a few very large
Acer macrophyllum
on Leaning Oaks, putting their roots down in the moister areas.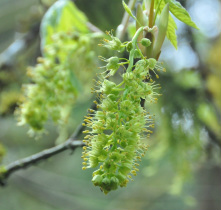 The buds start showing in April, followed by the honey sweet smell of the flowers. These flowers are edible and we'll often put a few in a salad. The other very yummy part is the sap; maple syrup from Bigleaf maples is very different than what comes from the eastern sugar maples. It is much richer and amazingly variable from tree to tree. The jars of syrup below; were all produced by Connie and Ralph Johnson in one year from the Cowichan Valley. The flavour will vary as much as the colour. Ralph is shown working at tapping a Bigleaf maple. The sugar content of the sap is much lower, so the amount of sap required to get a good syrup is greater. The tapping is usually done in January.
Maple syrup photos by Connie Johnson.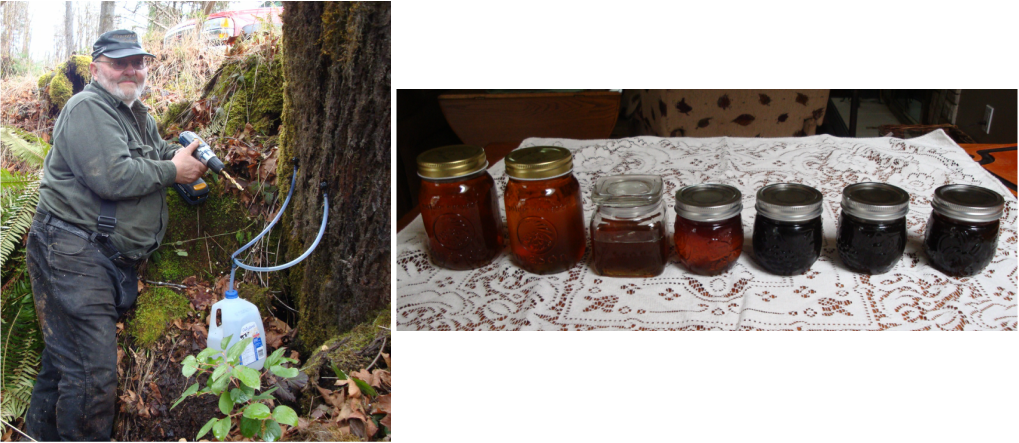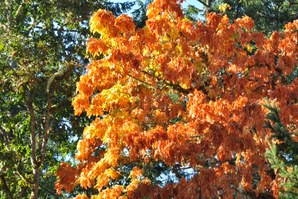 The strong close grained wood was used for paddles and dishes by local First Nations. The inner bark was used for rope and baskets.

The bright yellows and oranges in the fall gives what is generally a subtler show of colour here on the coast a bit off oomph.