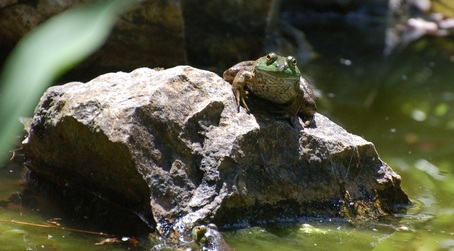 We built a small pond in garden here a number of years ago, and, for the most part it has been an amazing attractant for all manner of critters. We have had River Otters and Mink, Mallards and Kingfishers, at least 8 species of dragonfly, and many other water dependent invertebrates. One of the first vertebrates to find the pond however was this species,
Lithobates catesbeianus
a very large non-native frog that colonized our new pond the very first rainy night in August. So far despite the size of some of the frogs in the pond we have not had any evidence of breeding. No egg masses, no tadpoles. This is because our pond builds up Bullfrogs in large numbers from immigration, and then becomes a mecca for predators. The first mass control of Bullfrogs took place on two consecutive nights when a mother and four or five River Otter kits visited. They took the frogs down to a small number and the remainder became food for another weasel family representative, a Mink. Then another late summer rain and the pond became colonized by bullfrogs again. This year a young Great Blue Heron has been visiting the pond and targeting the bullfrogs. Our pond is a sink, it doesn't add to the population of Bullfrogs. Its not all rosy though, we suspect the high number of Bullfrogs is the reason why we have not recorded Red-legged Frog on the property. Tree Frogs apparently don't breed in our pond either and we have only ever seen a single salamander larvae. When the numbers of frogs are high, we suspect the numbers of damselflies is lower. We have watched Bullfrogs try to take birds - up to the size of an American Robin!