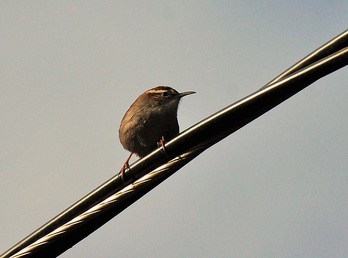 Amongst local birders there is a running joke that if you hear a bird noise that you don't know - it is a Bewick's Wren (
Thryomanes bewickii
).
Males have multiple songs that they can sing (from half a dozen to almost 2 dozen depending on the male), and there is considerable local geographical variation on top of that. Throw in a few chucks, whistles, burrs and trills and you get a lot of variety. Click
here
to listen to Bewick's Wren vocalizations from througout their range.
They often nesting in human made things like mailboxes, shoes, hats, nest boxes and other cavities. Loud and visible, Bewick's Wrens are often hard to ignore neighbours. They are present at Leaning Oaks from time to time and have raised families here, but we also have had them disappear for months at a time some years, particularly after period of cold weather. Of our 3 wrens it is the longest tailed and has a distinctive white eyebrow stripe.