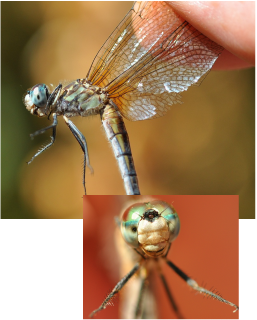 This was a species that I was keen to find. It was fitting that this one was caught at the pond by Syd Cannings one hot, sunny afternoon in August. Syd has been a dragonfly collecting partner for many years and taught me a lot of what I know about them. Thanks Syd!
We haven't found exuvia or larva of this species or seen mating so we aren't sure yet whether it is breeding in the pond or passing through.
Pachydiplax longipennis
are generally found in larger ponds or lakes and are very common in southern North America. In B.C. they are in the southwest corner and the infrequently in the Okanagan.