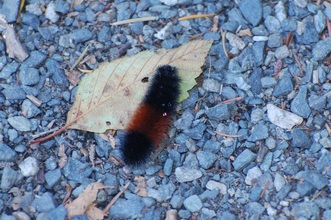 This might be the most recognized moth larvae in North America. Almost everyone recognizes the fuzzy, black-at-both-ends caterpillar that you find on the ground in the fall. It eventually turns into the golden yellow Isabella Tiger Moth.

Here are some interesting Banded Wooly Bear
(Pyrrharctia isabella) facts:


- Sedro-Woolley, a town in Washington State is said to be named after the caterpillar. However since the Phillip A. Wolley, a railroad developer moved the Sedro in 1899 and was a major land developer in the area, that story seems unlikely.
-Arctic populations of Wooly Bears can take several years (up to 14!) to grow into moths, and they pass the winters frozen solid.
-Folklore has it you can predict the severity of the winter by looking at the bands, the wider the copper band, the milder the winter. In actual fact, there is considerable variation in band width within a group of silbling hatched from the same egg case.
-the hairs of Wooly Bear can cause dermatis in some people.
-at least 8 towns in eastern North America have Wooly Bear festivals in the fall.