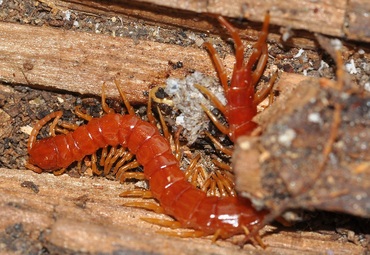 The Order (Scolopendromorpha) that this centipede,
Scolopocryptops spinicaudus
belongs to contains the largest known centipedes; there is one species within it from Venezuela that grows to 28cm! This was not that large...a mere 6-ish centimeters. The English name refers to the Order, not Leaning Oaks unfortunately. They have formidable forcipules located under their head (left had side of the photo) that they use to capture their prey (smaller arthropods) and inject venom. I couldn't find out if this species can do damage to you or I. Although all centipedes to have a toxic venom, most are unable to penetrate our tough skin. And the toxicity may generally enough to cause swelling and some pain.
These guys are built for speed, and if you look at the plates, you see that they alternate between larger and smaller. This helps to reduce the undulations that come naturally from a slender object running forward at great speeds.
And because everyone want to know,"What is the difference between a centipede and a millipede?" I have always looked at the number of legs per segment and if it is one, then it is a centipede. There are other characteristics and
this chart
sums them up.