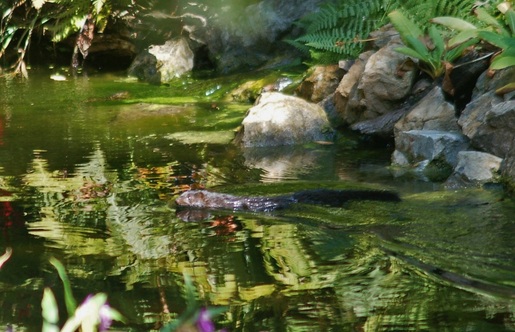 We have recorded two members of the weasel family here at Leaning Oaks, River Otter and Mink. Two others are possible, Pine Marten and Ermine, although to date, we haven't observed these latter two yet.
Mink (
Neovison vison
)
likely are here more often than we know, hiding and hunting under our decks or in among the shrubs, largely out of site. Occasionally we catch a glimpse of one crossing a path or popping up onto on of the decks. Small birds often alert us to their presence, and alarm calls from Dark-eyed Juncos or Spotted Towhees are always worth investigating. Our longest looks tend to come when one visits the pond and hunts for Bullfrogs, such as the one in this photo.
Bullfrog hunting by mink is a frenetic affair, with the mink moving rapidly and constantly, entering every small crevice and hollow around the edge of the pond, looking for hiding bullfrogs.