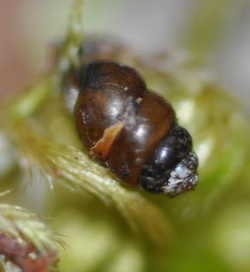 This will be one of the smallest organisms that we tackle on species a day! The lower photo shows one with a fingernail as a size reference.
In 2010 the Threaded Vertigo was listed as Special Concern by the Committee on the Status of Endangered Wildlife in Canada, the full report is
here
. They seem to be found mainly on Bigleaf Maple trees on southern Vancouver Island, the Sunshine Coast and one on Saturna Island and have minimal dispersal capabilities -i.e. they ain't flying or jogging to the next tree, which may be a long ways a way when you are but a couple of millimetres long.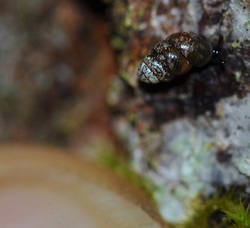 The ones that we have found have all been on two stems of one maple and are either in the cracks or on the moss...interestingly at eye height. I'm sure that isn't sampling bias.
At present this species is just known as
Nearctula sp. 1
.
There isn't any question on the validity of the species, just that it is in a been a taxonomic muddle.