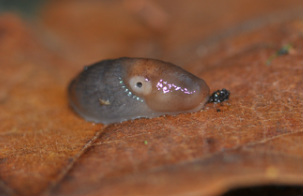 Or Chestnut Slug -or in several places , "no common name".
Derocerus invadens
went totally unnoticed by us until malacologist
Robert Forsyth
was visiting, turned over a tile and pointed it out. He also happens to be the person who wrote the Land Snails of BC. He knows his stuff.
This species has been tracked on its invasive path from Italy in many parts of the world, seemingly only limited by cold winters. The first record in Canada was 1966 in a greenhouse in Quebec and then the first outside record was at UBC in 1974. Since then it has been found in various locations on southern Vancouver Island
(Hutchison et al 2014
). That same paper cites a study where this species was unable to survive a temperature colder than -6.4 deg. C. It hit -5 a couple of nights ago and we do get below that a number of times in the winter, so whether the tramp becomes another pest at Leaning Oaks is yet to be determined!