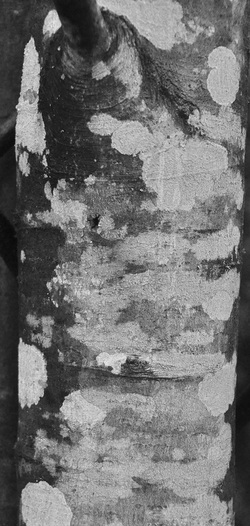 Scouler's Willow (sometimes call the Upland Willow) (
Salix scouleriana
) is a large shrub to small tree here at Leaning Oaks. Mostly, they go unnoticed except for a few glorious weeks in the fall when their many medium to small leaves turn bright yellow. Our biggest one is behind the deck over the pond and in the fall it reminds me of those fireworks that explode in sprays of yellow.
The bark (pictured here) is almost always covered with patches of a light coloured lichen - which we haven't tried to identify yet.
Scouler's Willow lives in a variety of habitats and as its alternate common name suggests it thrives in sites that are more upland than many species of willow. It's wood is sometimes used by carvers. It can be a useful species for vegetating an area, and branches, even quite large ones, root readily when stuck into the ground in moist soil.