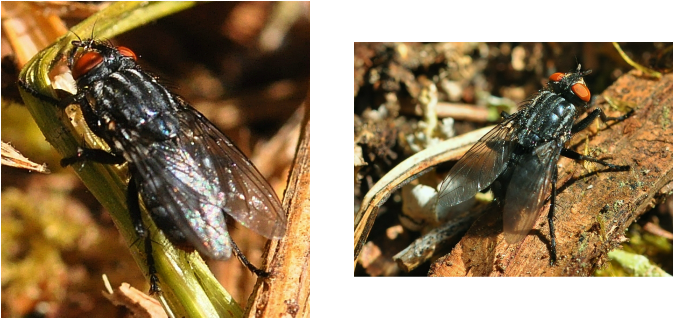 In an attempt to narrow down the possibilities for which species of red-tailed
Sarcophaga
this was I started with looking for a list of flesh flies from B.C.. I came across a paper by Buckell and Spencer from 1945 in the Entomological Society of B.C.'s journal titled;
A Preliminary List of the Flesh Flies of B.C
.. Now what I found the most amazing was that out of the 27 species identified at that time for the province, 14 had been reared from the lesser migratory grasshopper,
Melanoplus mexicanus
! Cool, eh!? We don't know where the larva of this fly lived, but it would have been some moist, decaying matter or carcass.
Members of this genus are often the first to arrive at a freshly dead corpse and therefore are important in the oh so fascinating study of forensic entomology. The rate of egg hatching and larval development at various temperatures and different conditions has been studied in depth in order to aid detectives that are attempting to pinpoint times of death. I remember being in one talk at an entomological conference where the researcher said that the best thing that a murderer could do was dump a body under a weather station (hmm, it seemed funny at the time...).