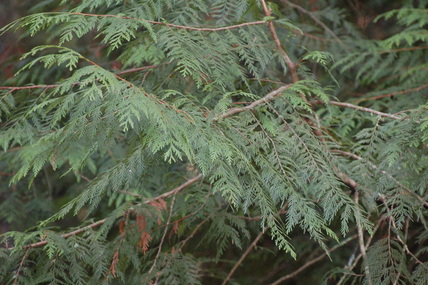 When I was at university, my parents took in a number of exchange students. One of these, John from New Zealand, returned for a visit several years later and I picked him up from the ferry and drove him to my parents. We arrived at the house and got out of the car. "Just a minute." said John and he ran into the woodshed, held a piece of cedar kindling to his nose and inhaled deeply..."now I know I'm back..."and he smiled broadly. The smell of fresh cut cedar is a wonderful thing.
Western Red Cedar (
Thuja plicata
) is a conifer with very rot resistant wood, so often used for fence posts, railings, and decking. It splits easily in long pieces and much of my teenage years was spent splitting fence posts, railing and cutting cedar shakes to earn pocket money. It is the wood of choice for coastal First Nation's canoes, long house boards and totem poles. The inner bark can be stripped, worked to make it pliable and used for matting and clothing. The branches can be twisted into rope - the uses of this tree are just about endless.
Here at Leaning Oaks we have a handful of cedars, although several of them have died since we moved here, likely victims of recent hot, dry summers. New recruits are non-existant on the property-they are heavily browsed upon by Blacktail Deer, which are at a very high population levels.