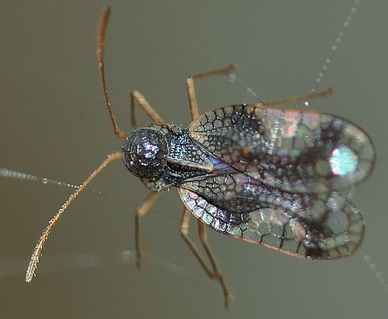 Stephanitis takeyai
was introduced in eastern North America in 1946 from Japan and can be a serious pest in the nursery trade on
Pieris japonica
. The first record from BC was 2001 in Richmond on a
P. japonica
(
Scudder 2004
)
.
This wee tingid was caught in a spider web, so we don't know what the host was on Leaning Oaks as we are Pierisless. We do have a few of the less common hosts, Rhododendron, Azalea and Salix. We will now be watching for yellowing and mottling on the upper side of the leaves, one sign that they are feeding on the underside.
Apparently there can be four to five generations per year in Connecticut where there has been research done on this pest. I couldn't find anything on generation time for the population in the west.
Scudder, G.. Heteroptera (Hemiptera: Prosorrhyncha) New to Canada. Part 2.
Journal of the Entomological Society of British Columbia
, North America, 101, 2004. Available at: <
http://journal.entsocbc.ca/index.php/journal/article/view/76
>. Date accessed: 13 Feb. 2015.