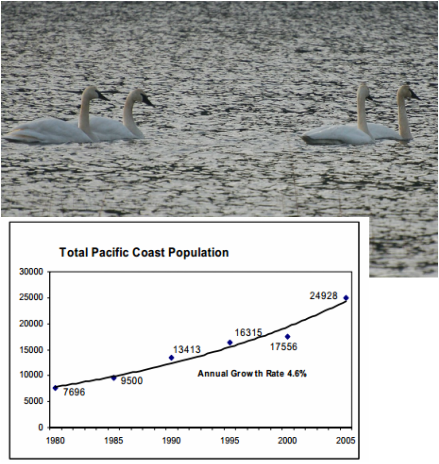 Sigh, maybe next pond will be this big! It would have to be big to hold the world's largest waterfowl.
Beginning about mid November through to March or April we see or hear these bulky beautiful swans flying over Leaning Oaks on their way to or from a local wetland or field where they over winter. The trumpeting call is a wonderful reminder of how sometimes there really is good news and conservation success stories.
By the early 1900s Trumpeter Swans (
Cygnus buccinator)
had been harvested to near extinction. In 1932 only 69 were known to exist! In the early '50s a few thousand were found in Alaska. And as you can see by the graph from the Pacific Flyway Council (2006) just the coastal population was 25 000 by 2005! There are still concerns about fragmentation of wintering habitat and development around their breeding grounds in the north - but they are doing alright now, with populations that continue to increase.