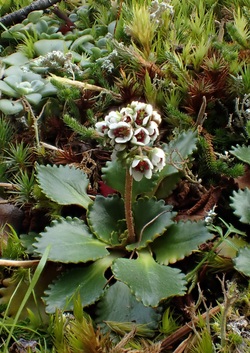 I learned this plant as Saxifraga occidentalis ssp rufidula, however a number of years ago S. occidentails was split into a number of species and this became S. rufidula, then even more recently the genus Saxifraga was split and this became Micranthes rufidula. Leah photographed this today, a very early flowering date for this species, again a testament to the very mild spring.

It grows in seasonally moist moist areas, often in mossy seeps over bedrock on rock outcrops. Specimens growing on slighty deeper pockets of soil can be considerably larger that the one shown here.

This plant, like many of the species found here at Leaning Oaks I first learned taking a course on plant ecology at the University of Victoria, taught by Dr. M.A.M. Bell. Marc is celebrating his 80th birthday today and we are dedicating this Species a Day to him.