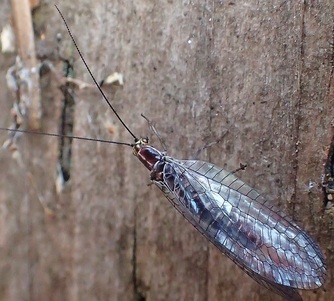 We caught a glimpse of this shiny slender lacewing resting after on one of the fabulously warm March days that we have been having. And although it isn't green in colour, it is a member of the Chrysopidae, or green lacewings. The more common ones are the filmy pale green, clear winged Chrysops sp that are often seen around lights and that can be purchased as part of an integrated pest control program. The larvae are voracious predators of a wide variety soft bodied pests, particularly aphids. One description of the larvae are that they look like tiny alligators. The adults hove into honeydew, pollen or nectar. A bit like growing up in Alberta and moving to the west coast as an adult.
I am making a guess that this coastal species,
Nothochrysa californica,
has similar feeding habits. In Canada it has been recorded from B
owser, Nanaimo, Sidney, South Pender Island, Vancouver, and Victoria and is listed in Geoff Scudder's 1996 priorities for inventory and research in British Columbia. T
his species was also reviewed as a candidate for federal listing as threatened or endangered in California where it lives in the San Francisco Bay area.