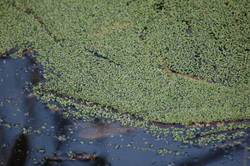 Common Duckweed (
Lemna minor
) grows on the surface of our pond often blanketing large areas by the end of the summer. It is a floating aquatic plant with 1-3 leaves and a root hanging down into the water. As the leaves grow, they split from one another and become separate plant. Duckweed leaves have
aerenchyma
which are air pockets that allow them to float.
Flowers are tiny, and either we have been unobservant and missed them, or our population reproduces mainly by division. We didn't put Duckweed in our pond, they either hitchhiked in on the plants that we did buy, or arrived here courtesy of the ducks that visit the pond. Common Duckweed is one of four species of
Lemnas
that we have in British Columbia. Duckweed meal made from dried duckweed is sometimes used for cattle feed as it is high in protein. When grown commercially can be produced at the rate of 10-30 tons of dried duckweed/ha/year. I sometimes net out some of our duckweed in the summer to open up the pond - here we use it as a soil amendment in the garden.