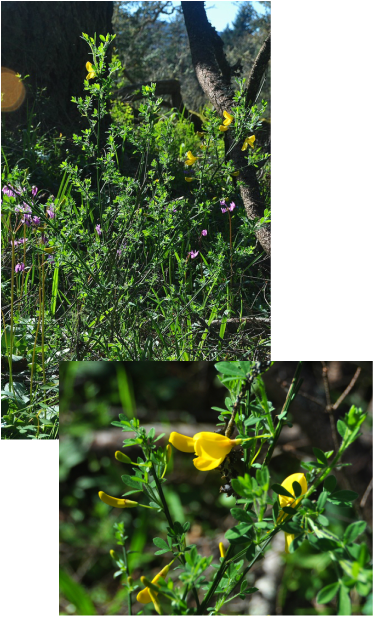 Aack! Unbelievable! Rant, grumble, curse, stomp, stomp, pull, curse. How can there still be bloom sized broom anywhere on the property, let alone within easy sight of a main trail? When we arrived at Leaning Oaks 17 years ago, we faced a meadow of broom, thick and tall and blooming. What has ensued has been a non-stop (well, except when I did a severe back thing while pulling) commitment to annihilation of
Cytisus scoparius
.
We have seen tangible results - the meadow wildflowers are much thicker and widespread without the shading and space-sucking broom. It has been SO rewarding to see these increase over the years.
There are reasons that it is so pervasive. The green, photosynthesizing stems enable the plants to continue happily along despite leaf loss due to drought or herbivory. Each plant can disperse an average of 18 000 seeds and these seeds can live in the ground for up to 30 years after being spectacularly catapulted up to five metres away from the plant. I have seen figures like 42,000 seeds and 60 years, but there is a tendency for hyperbole when it comes to Scotch broom.
Captain Walter Grant, a "homesick Scot" that lived in Sooke seems to get most of the blame for the introduction of this plant in 1851 from seeds that he picked up on the Sandwich Islands. It was the next owner of the property in 1853, Anne Muir, that apparently insisted that the three plants that had sprouted be kept as they reminded her of her home in Scotland. This plant that is now is found on much of the island and mainland to the Kootenays and south to California had multiple introductions. John Murray writes that when he arrived in Fort Victoria in 1849, there was at the base of Beacon Hill a "here and there growing luxuriantly, a bunch of broom". This introduction is attributed to Governor James Douglas and some seeds that he had picked up in Oregon. It is also thought that seeds arrived via the rocks and dirt that were used as ballast in ships. The ships would dump this load willy nilly and was a source of many plant introductions here and particularly on the east coast. The late 1800's were a great time for an invader that loved disturbed soil and freshly logged patches - this was happening all around southern Vancouver Island!
Scotch broom was planted extensively along road ways, banks and below power lines for stabilization; it was perfect as it grows very quickly and is drought tolerant, spreads (duh) and the long roots do a great job of holding the soil.
For a fabulous read on the human history of broom and the myriad of ways that broom, and other European seeds were easily available and the people behind the broom, "
Glistening Patches of Gold
" by Troy Lee. I could go on and on with the tidbits that I learned from this essay.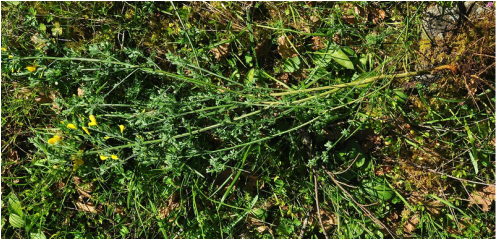 The fate of the cursed plant. For several years we held "fun" broom pulls -huge pots of chili and beer and we put green twist ties at the base of 30-40 plants all over the property. When a person found one, they got to choose a prize!