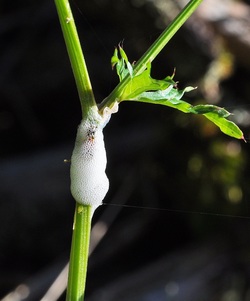 What lurks beneath the bubbly mass? We had featured the
Meadow Spittlebug
previously (#117) and I had assumed that was what I was going to find, that common European introduction. Except that if you peer at the bubbles in the photograph to the left you can see that there is a bit of red showing. The keys and information on identification that we could find was mainly for the adults, so even this very spiffy nymph, it was difficult to get further than the genus. However, it was found below Douglas-fir, so based on host preference, it is quite likely to be
Aphrophora permutata
. They range from the Douglas-fir forests of southern B.C. to California.
Apparently this genus holds the record for the number of nymphs in one goop of spittle; 100 in a glob 25 cm long! Or so says Andy Hamilton on
BugGuide
.
Do check out the
Meadow Spittlebug
account for the story of the foam. It really is cool!