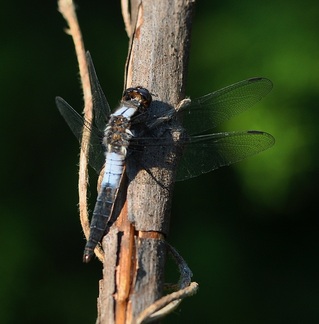 Ladona julia
is not common at Leaning Oaks and my suspicion is that this fellow is a visitor from a larger or boggier piece of water somewhere nearby. The English name comes from the two distinct stripes on the thorax -stripes of a corporal. These are more distinct in younger ones. And of course the "chalk -fronted" refers to the pruinosity on the abdomen. Pruinosity in dragonflies is a waxy deposit - like what you get on Italian prune plums.
I learned this as
Libellula julia
, but some DNA sequencing (
Kambhampati and Charlton 2002
) determined that this skimmer was indeed a separate genera within the Libellulidae family.
You will see these chunky dragonflies sunning themselves on sticks facing the sun (like the photo), perching on vegetation over the water or flat on the ground when away from the water. This tendency to land on the ground distinguishes from the other big skimmers found in BC which seem to rarely do that.