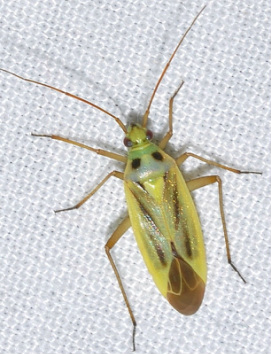 This bug is a "true bug" (order Hemiptera) and to make it even more straight forward, it is in the family "Miridae", the Plant Bugs. Stenotus binotatus was introduced from Europe in the late 1800's. The first North American records are from Massachusetts and they have spread across the continent since then. They can be a serious pest on wheat and other cereal crops, causing them to collapse. It produces an enzyme which will degrade the gluten and the dough produced from this wheat has a sticky characteristic. (Every, D., J.A. Farell and M. Stufkens 1992).

The older the individual, the darker the colour will be. Looking at the photographs of this grass bug on Bug guide I'd say this was a younger one. It was about 5-6 mm long and came in to a sheet that we had a light focused on for attracting moths. It was so small that there was no way we could see the beautiful colours until the photograph was taken!

Every, D., J.A. Farrell and M.W. Stufkens. 1992. Bug damage in New Zealand wheat grain: the role of various heteropterous insects. NZ J of Hort and Crop Sci. 50. 305-312.